Omron HEM-7117 (JPN-2) Blood Pressure Monitor
Omron HEM-7117 (JPN-2) Blood Pressure Monitor
Hypertension Indicator

Detects irregular Heart Beat

Cuff wrapping Guide

One touch Operation

Intelli Sense Technology

5 years extended brand warranty from date of purchase. T&C: To claim warranty, original invoice is mandatory
Automatic Blood Pressure Monitor JPN2
Omron HEM-7117 (JPN-2) Blood Pressure Monitor
Omron JPN2 Intellisense Blood Pressure Monitor Provides easy and comfortable blood pressure measurement.
Product Features
Hypertension Indicator
Heartbeat symbol blinks if your systolic or diastolic pressure is outside the standard range (above 135 systolic/85 diastolic mmHg).
Irregular Heartbeat Detection (Please consult a healthcare professional)
An irregular heartbeat is a heartbeat rhythm that varies by more than 25% from the average heartbeat rhythm detected while the unit is measuring blood pressure.
1. If such an irregular rhythm is detected more than twice during measurement, the irregular heartbeat symbol appears on the display with the measurement result.
2. If the irregular heartbeats cause the measurement to be invalid, no result is shown.
3. If the irregular heartbeat symbol is shown after you have taken a measurement, repeat the measurement.
IntelliSense Technology
Automatically applies the right amount of pressure for fast, accurate and more comfortable measurement
The IntelliSense™ Monitor inflates the cuff to the ideal level with each use. No adjustments are required by the user to select an inflation level. This is especially convenient for hypertensive users and for people with certain arrhythmia or heart disorders, because their blood pressure is likely to fluctuate.
Advantages of IntelliSense Technology:
Fully automatic

Personalized inflation for maximum comfort

Quick deflation releases valve for speedy measurement

Clear & large LCD Display for easy reading

User friendly operation with large Button
Stores 30 Measurements in Memory
Optional Accessories: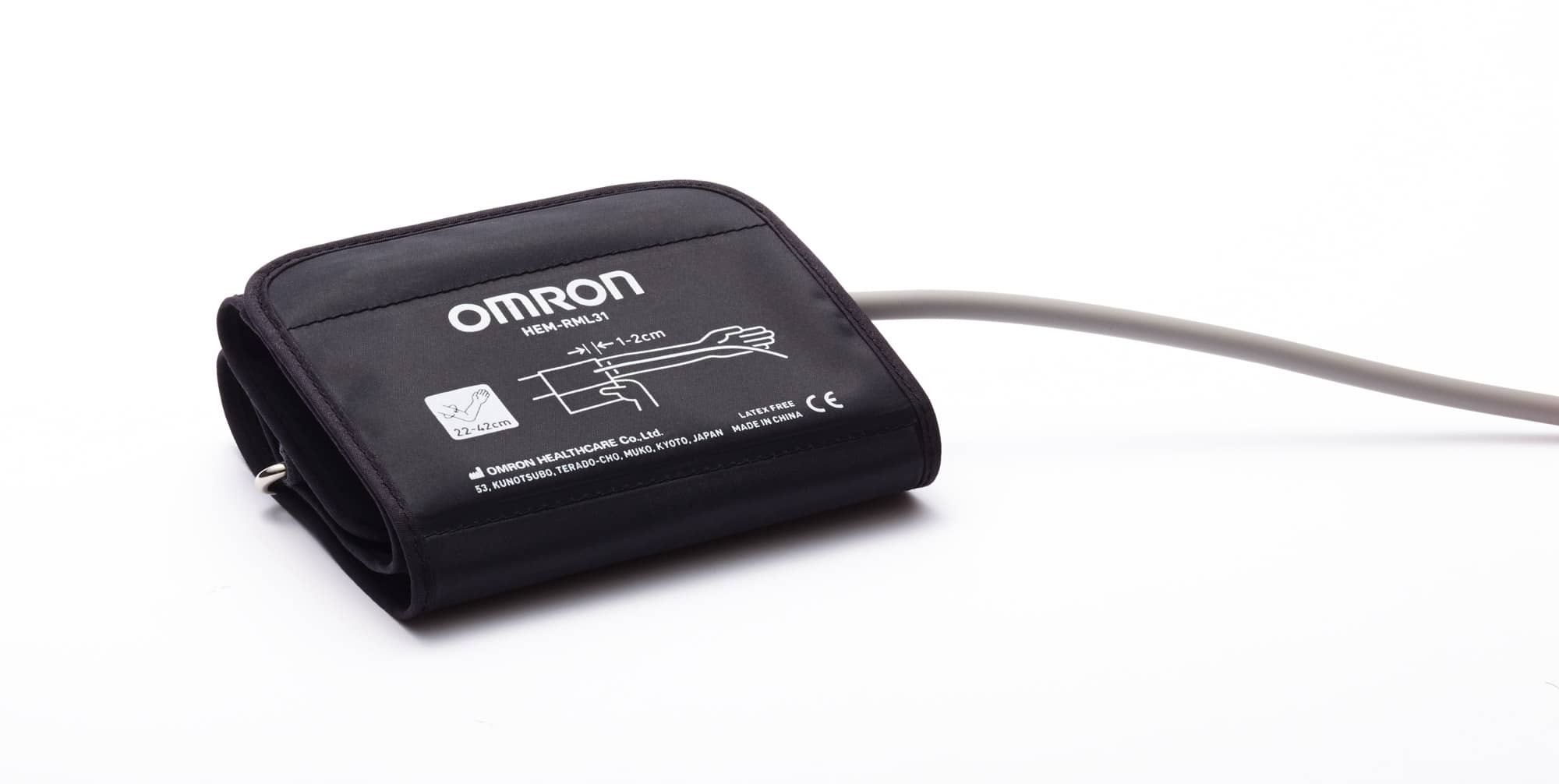 Wide Range Soft Cuff HEM-RML31
Arm Circumference of 22 – 42 cm
S-Size Soft Cuff HEM-CS24
Arm Circumference of 17 – 22 cm
L-Size Soft Cuff HEM-CL24
Arm Circumference of 32 – 42 cm
Technical Specification
Model: JPN2

Display: LCD Digital Display

Measurement Method: Oscillometric Method

Measurement Range: Pressure 0-299 mmHg; Pulse 40-180 beats/min

Power Source: 4 AAA batteries 1.5V or AC Adapter (optional)

Rating: DC6V 4W

Battery Life: Approx. 300 measurements with new alkaline batteries

Console Weight: Appox. 250g without batteries

Outer Dimensions: Approx. 104 (w) x 84 (h) x 129 (l) mm

Cuff Size: Approx. 146mm x 446mm (medium cuff: fits arm circumference 22-32 cm)
Package Contents: (1) JPN2 Digital Monitor (2) M size Arm Cuff (3) 4 pcs AAA Batteries (4) Instruction Manual (5) Omron EMC/ Warranty Information
More details from the manufacturer's website, Omron Automatic Blood Pressure Monitor JPN2
Products manual can be found at, Omron JPN2 Manual
Additional information
| | |
| --- | --- |
| Manufacturer | Omron -Japan; |
| Manufacturer Part Number | 10098 |