Nikon Eclipse E100 Educational Microscope
Nikon Eclipse E100 Educational Microscope
High-quality images with newly developed bright LED illumination and time-proven CFI optical system.
Features newly developed high-intensity LED illumination, providing uniform brightness in the entire field of view. A halogen illumination model is also available. Nikon's infinity corrected optics, designed especially for the Eclipse E100 microscope, uses state-of-the-art technology to produce outstanding performance. Nikon's CFI* optics achieve flat, sharp images that minimize distortion. Transparent specimens can be observed with phase contrast observation. Featuring a simple and easy-to-use design for beginners, strong rigidity to ensure high accuracy and a long life, and an easy-to-store structure, the Eclipse E100 is the perfect choice for a variety of purposes, including educational and routine laboratory research.
Nikon Eclipse E100 Educational Microscope
Specifications:
Optical System: CFI45 Infinity Optical System
Illumination: High luminescent white LED illuminator (Eco-illumination)
Eyepieces (F.O.V.): CFI E 10x (18 mm)
Focusing: Coaxial coarse/fine focusing, Cross roller guide, Focusing stroke: 22 mm, Coarse: 37.7 mm/rotation, Fine: 0.2 mm/rotation, Coarse motion torque adjustable
Eyepiece Tube: E2-TB Binocular Tube
Nosepiece: Quadruple nosepiece (within main body), Revolving mechanism with multiple ball bearings, Elastic nosepiece grip-ring
Stages: Rectangular mechanical stage (within main body), with specimen holder, with vernier calibrations, Cross travel: 76 (X) x 40 (Y) mm
Objectives (NA / W.D., mm):
CFI BE Plan Achromat 4x (0.1 / 25)
CFI BE Plan Achromat 10x (0.25 / 6.7)
CFI BE Plan Achromat 40x (0.65 / 0.6)
CFI BE Plan Achromat 100x (1.25 / 0.14)
Condensers: YS-CA Abbe Condenser N.A. 1.25, Aperture diaphragm with position guide marking for respective objectives, 33-mm Blue Filter attachable. Phase Condenser (optional)
Observation Methods: Brightfield, Darkfield, Phase contrast
Optional Accessories:
Phase contrast attachment
Object marker
Darkfield ring unit
Mirror unit
Cord hanger
Storage case
Power Consumption (max.): Normal value: 3 W (LED model)
Weight (approx.:) 6 kg (Binocular standard set)
A student microscope with LED illumination and exclusive CFI infinity optics delivering clear, bright images at every magnification.*
Designed for years of high quality use, the Eclipse E100-LED is an upright microscope with outstanding optical performance combined with elegant ergonomic touches. The E100-LED, ideal as an educational or student microscope, incorporates Nikon's exclusive CFI infinity optical system and an high-intensity LED eco-illumination system that is IR-free, virtually eliminating eyestrain for users. In addition, advanced Nikon BE Plan Achromat objectives have been designed especially for the E100 with excellent optical corrections and very flat optical performance. This means clear, bright images at every magnification.
Key Features
High-intensity LED Eco-illumination
Eco-illumination provides enough brightness for phase contrast observation. With a fly-eye lens in the illuminator, uniform brightness is provided in the entire field of view. Using environmentally friendly long-life LEDs, Eco-illumination boasts a long lifetime of 60,000 hours and reduces the need for frequent lamp replacement. A halogen illumination model is also available.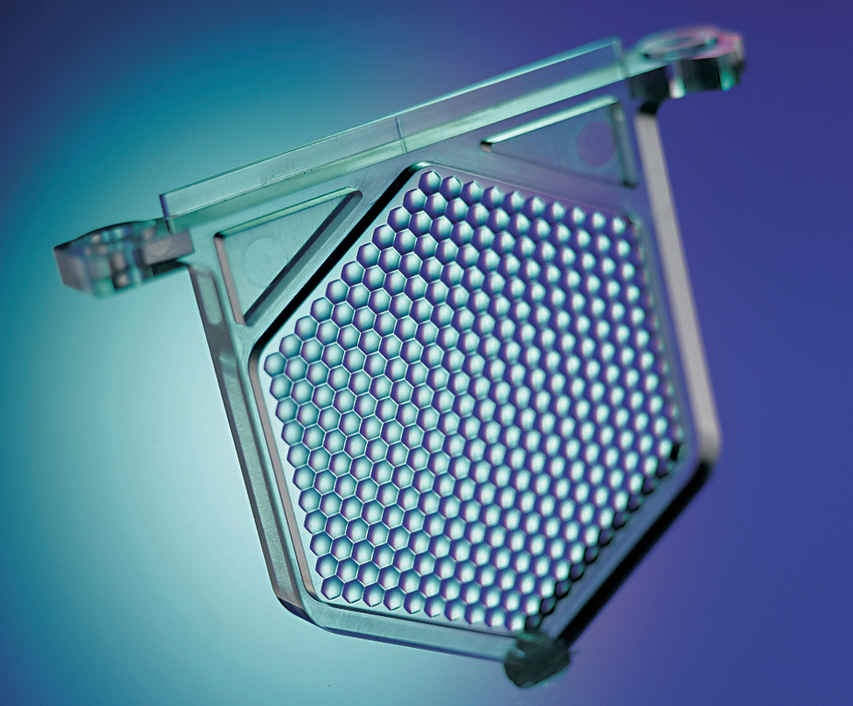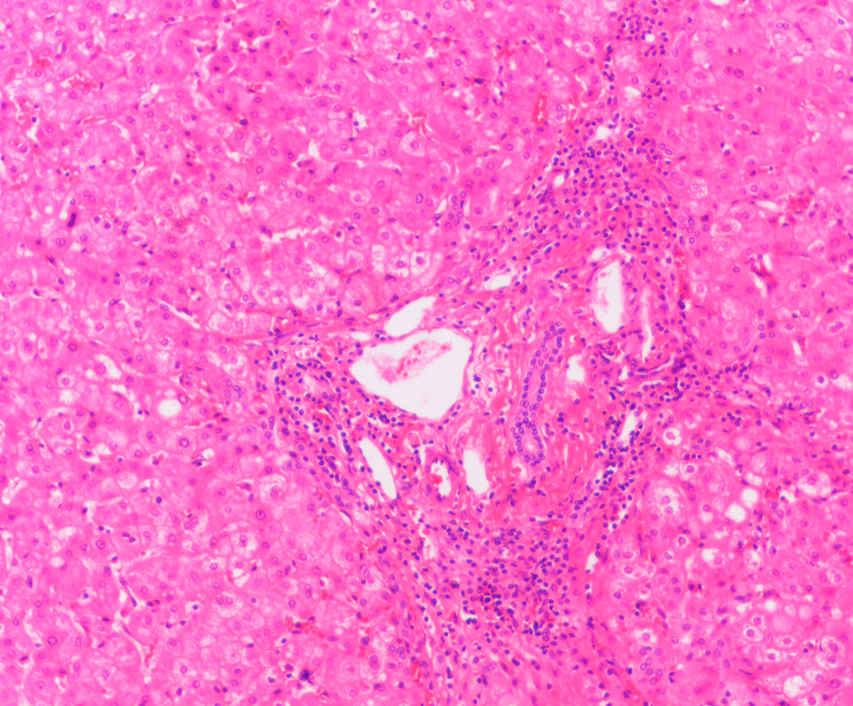 ---
Plan series objective lenses for flat images
The dedicated Plan series 4x, 10x, 20x, 40x, 60x, and 100x (Oil) objective lenses provide superior image flatness. Chromatic aberration and field curvature are corrected over the entire field of view.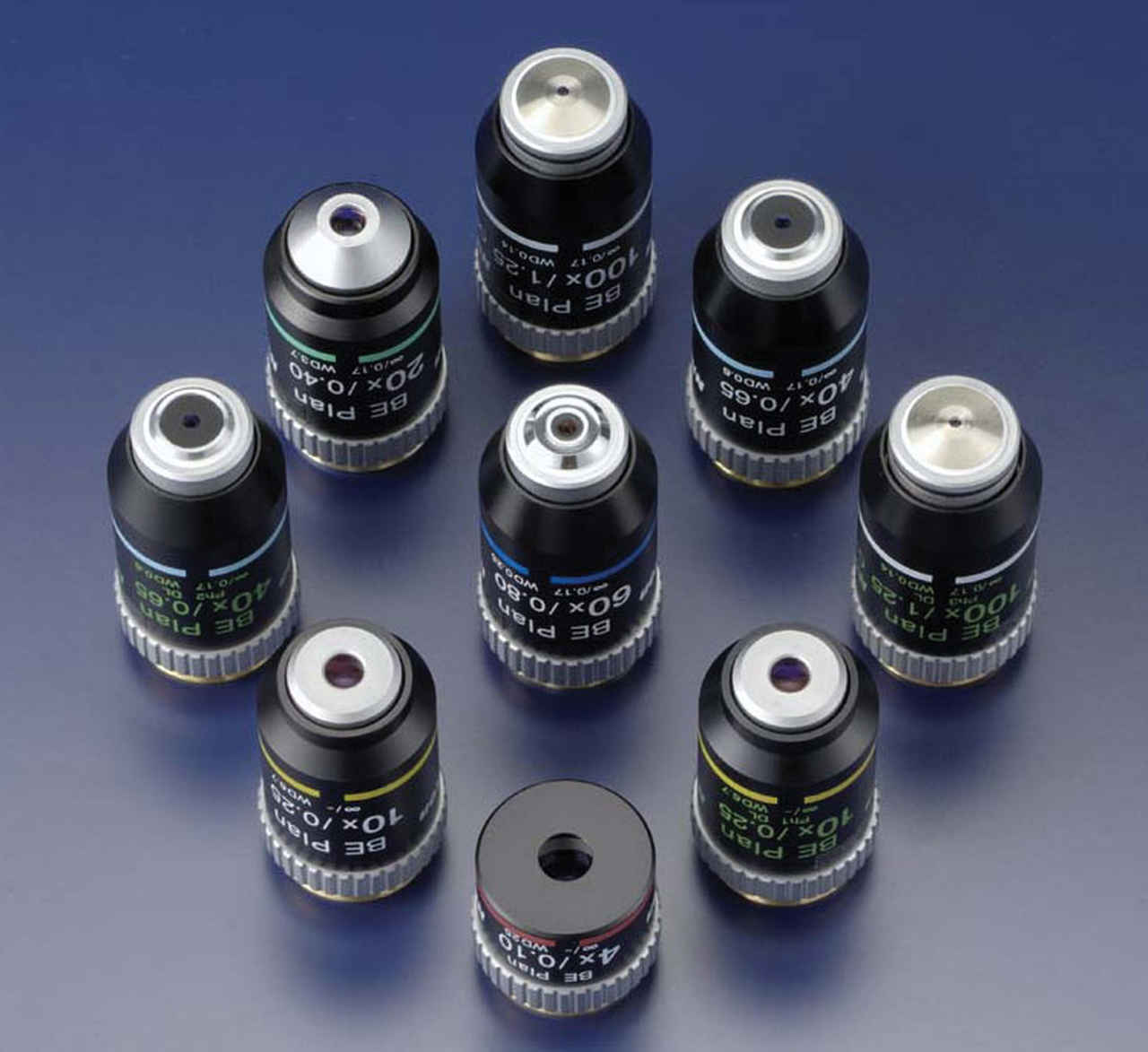 ---
Trinocular eyepiece tube allows image capturing
Either a binocular tube or a trinocular tube (to which a digital camera can be attached) can be selected. Both tubes have an eyepiece lens inclination of 30°, which allows for comfortable viewing. The eyepoint height can be adjusted by up to 34 mm, and the interpupillary distance and diopter can be changed to accommodate a wide range of operators.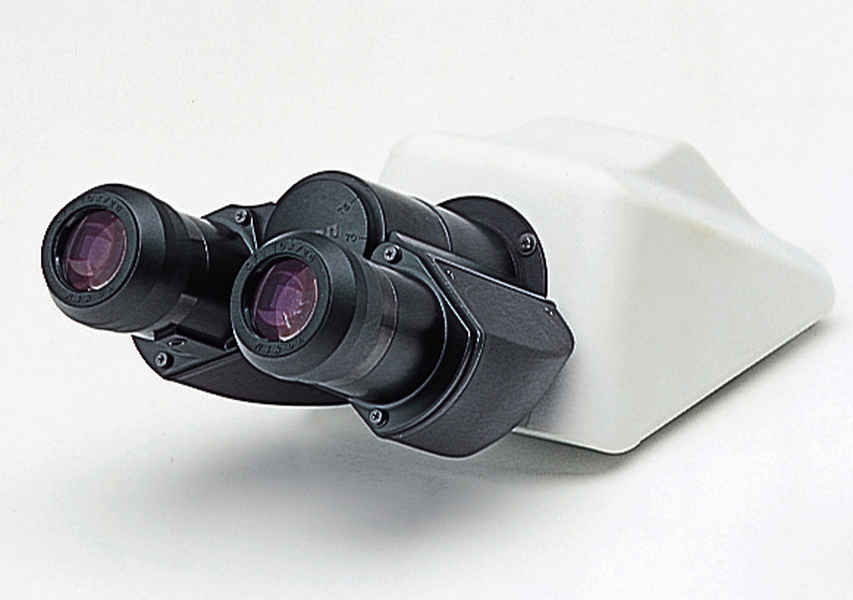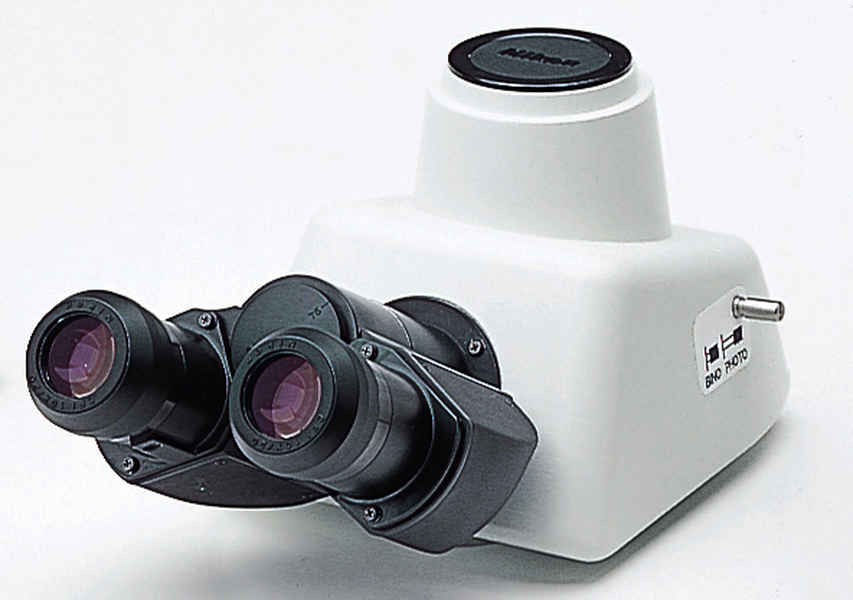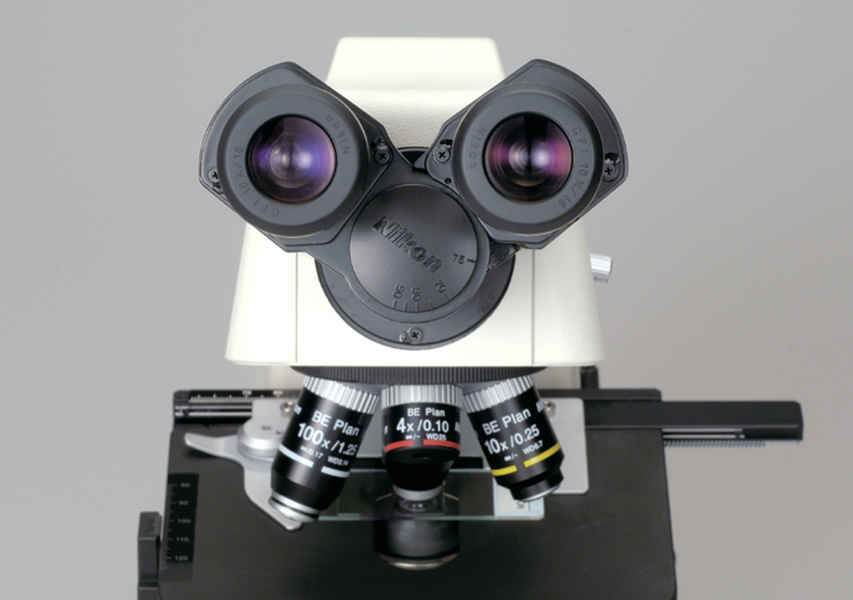 ---
Coaxial coarse/fine focus knob
The coaxial coarse/fine focus knob and the stage handle are located equidistant from the operator, so comfortable operation in a natural posture is possible even during a prolonged period of observation. The torque of the coarse focus knob is adjustable.
---
Phase contrast attachments
With an optional condenser, objectives and sliders dedicated for phase contrast and darkfield observation, even an unstained specimen that is colorless and transparent can be observed with clear contrast.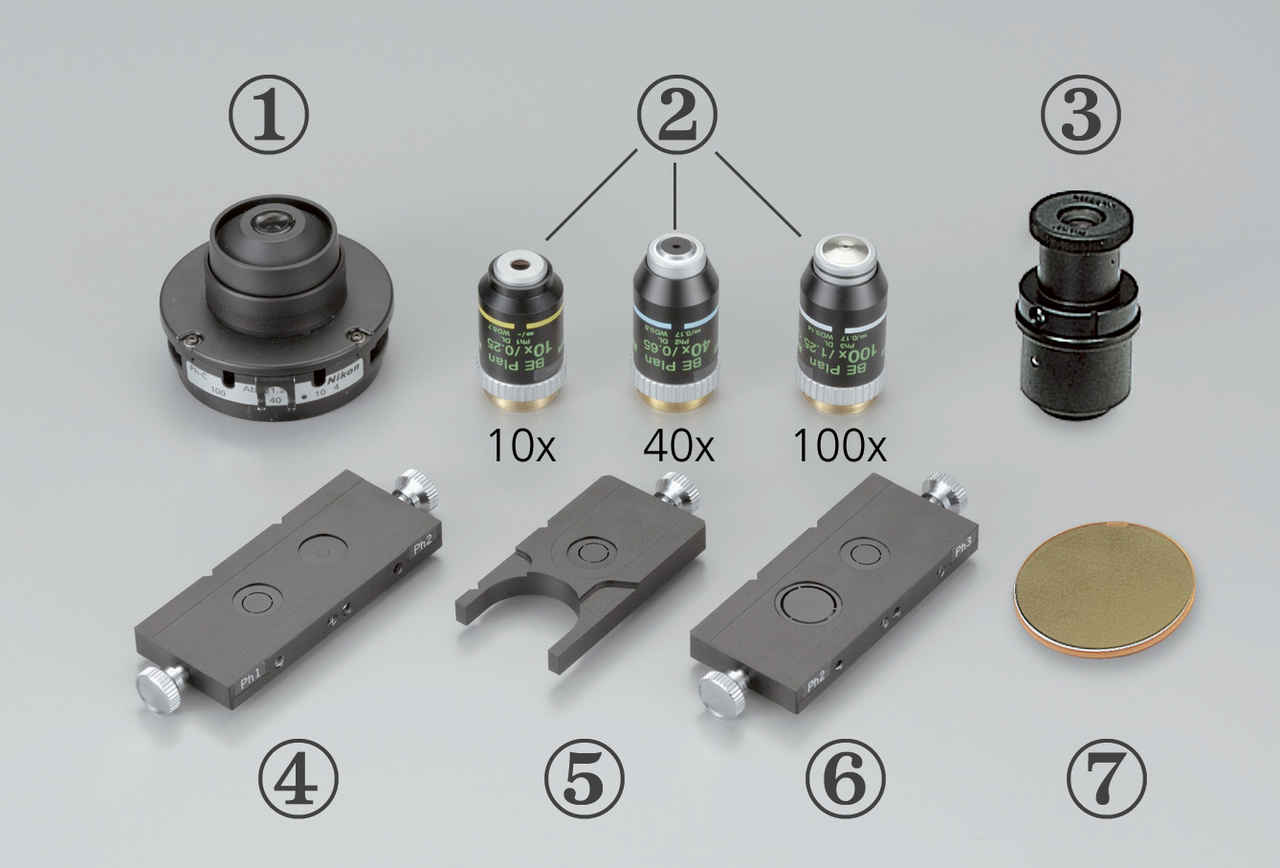 ---
Condenser with position guide markings
The condenser comes with an aperture diaphragm with position guide markings for each objective magnification to make operations quick and easy.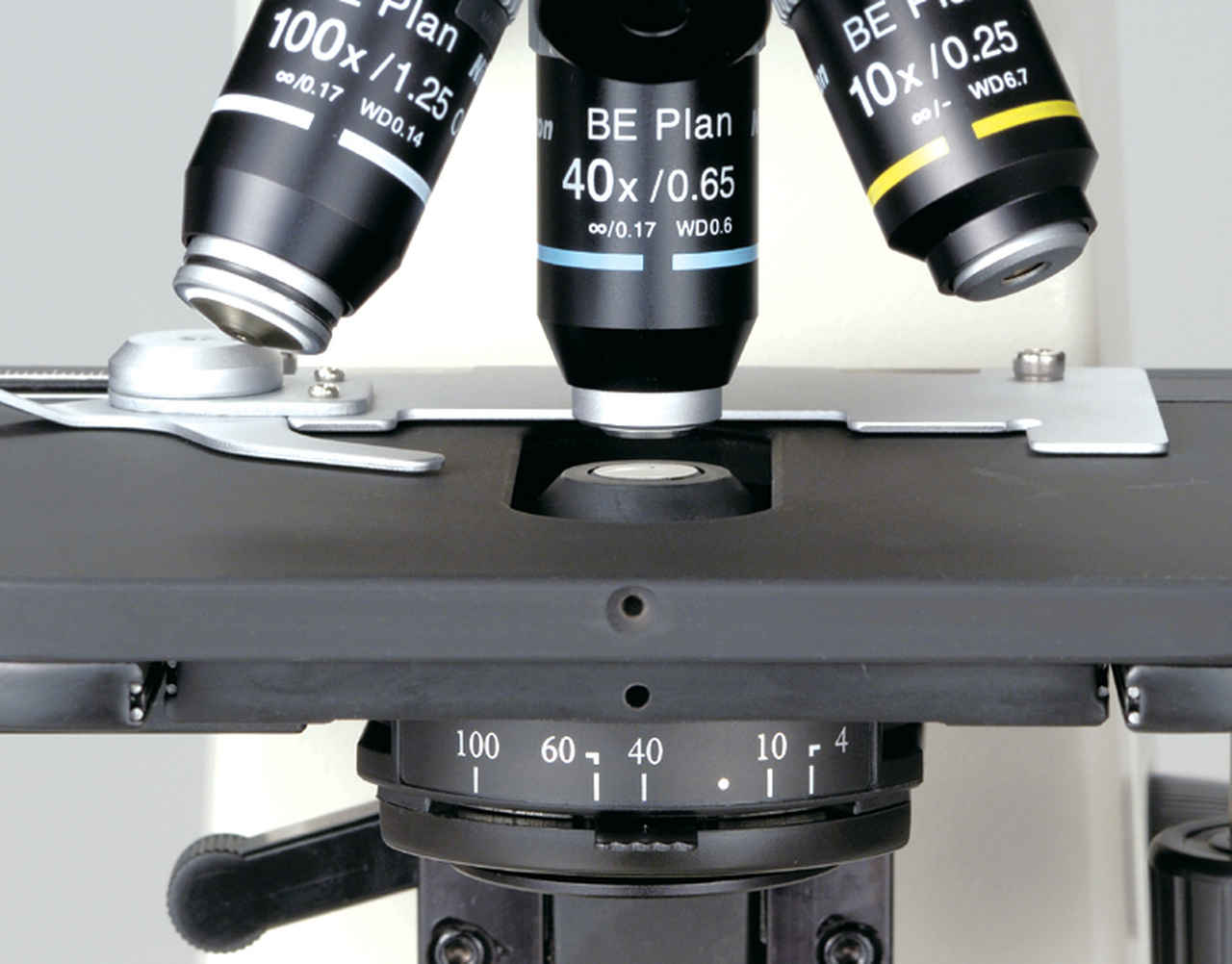 ---
Smooth rotation quadruple nosepiece
The high-quality revolving nosepiece has a click-stop mechanism. A knurled elastic-covered grip provides easy rotation and eliminates the need to touch the objectives.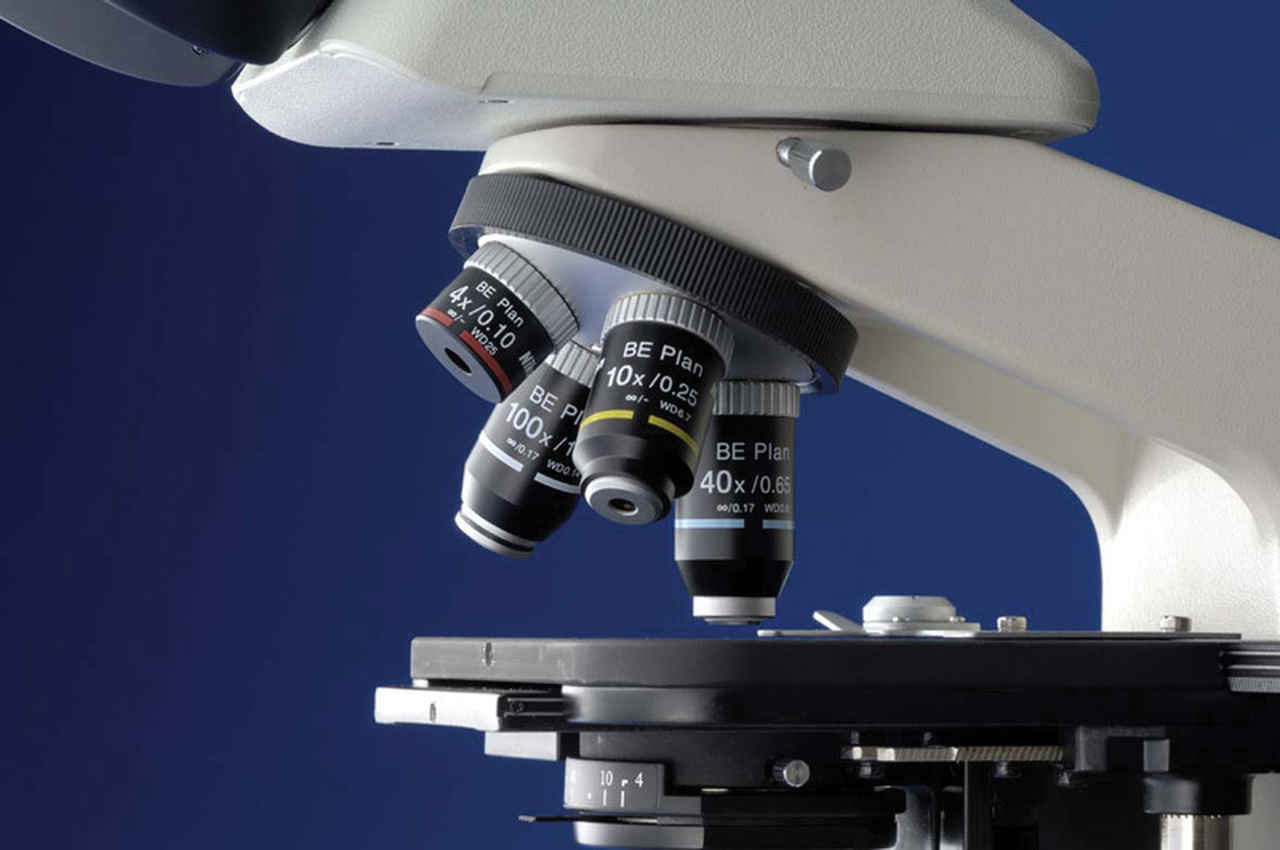 ---
Double-plate mechanical stage
A built-in double-plate mechanical stage provides smooth XY dual travel control. The large, flat surface facilitates easy specimen handling.
---
Easy halogen lamp replacement
The halogen illumination model features a powerful 6V20W halogen lamp that is adjustable up to 6V for convenient illumination control. Replacing the lamp is easy and trouble-free.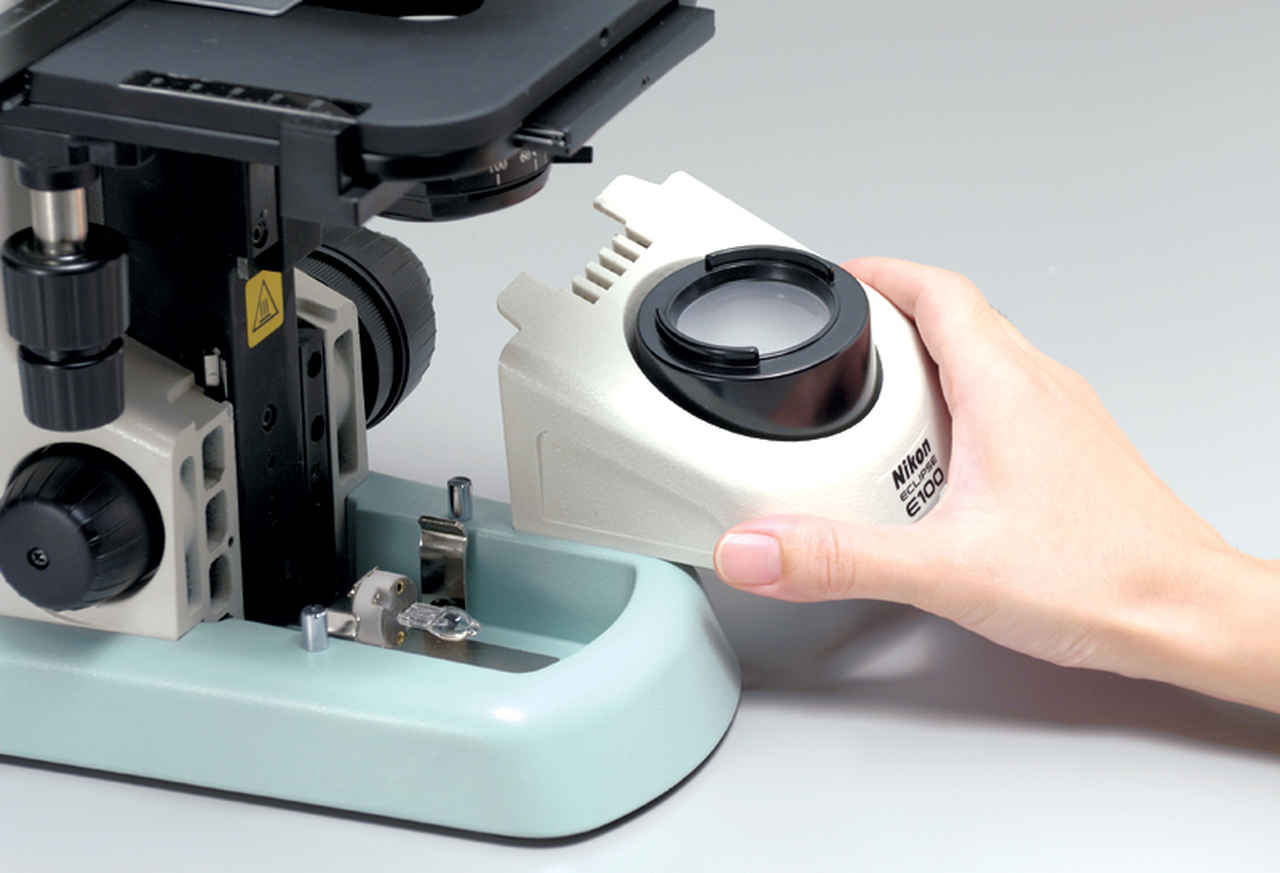 ---
Fungus-proof design
The Eclipse E100 is designed to prevent fungus forming on the objectives, eyepieces and tubes even in high-humidity environments.
---
Cord hanger and storage case
A cord hanger and two kinds of storage case are optionally available.
Additional information
| | |
| --- | --- |
| Manufacturer Part Number | 20087 |